Welcome to Our Program
HCA Graduate Medical Education in Association with the UCF College of Medicine
We believe the future of medicine begins in our communities. Our goal is to produce outstanding physicians who will meet the growing healthcare needs of our local residents. The purpose of the HCA GME program is to develop community-based programs with curriculums that provide residents with a broad and complete education in their chosen medical field.
Each curriculum is tailored to the individual resident's specific areas of interest, strengths and academic needs. Our programs are connected to North Florida Regional Healthcare, an organization centered around North Florida Regional Medical Center located in beautiful North Central Florida.
Graduate medical students and residents have the option to pursue entry into 5 programs focusing on the specialties of Family Medicine, Internal Medicine, Psychiatry, Emergency Medicine, and OB/Gyn. The goal of each program is to train competent and compassionate physicians who are prepared to provide quality and continuous care to our patients.
We are looking forward to showing you all that North Florida Regional Medical Center has to offer.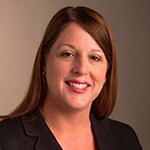 Ann Weber, MD
Chief Medical Officer
Veronica Stehouwer
GME Coordinator
6500 W Newberry Rd
Gainesville, FL 32605