Interactive Program Information
---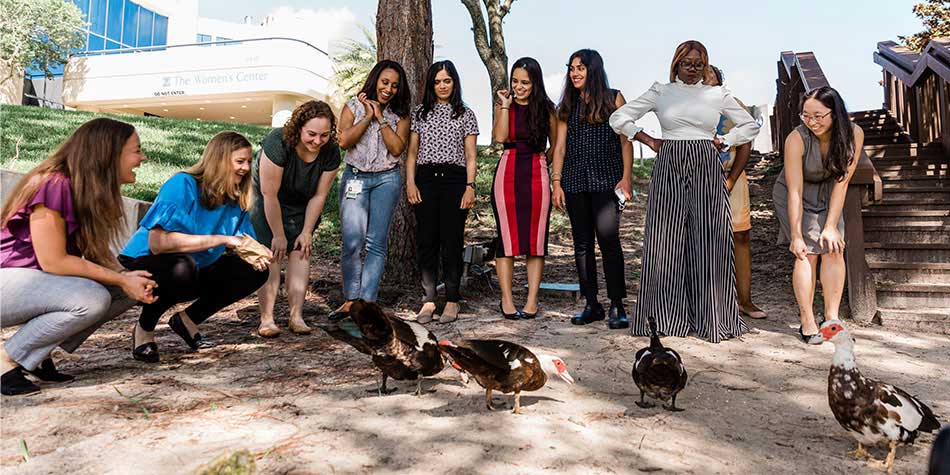 To locate us in ERAS, please use 2201100078.
To locate us in NRMP, please use 1587220C1.
HCA Graduate Medical Education in Association with the UCF College of Medicine
We believe the future of medicine begins in our communities. Our goal is to produce outstanding physicians who will meet the growing healthcare needs of our local residents. The purpose of the HCA GME program is to develop community-based programs with curriculums that provide residents with a broad and complete education in their chosen medical field.
Each curriculum is tailored to the individual resident's specific areas of interest, strengths and academic needs. Our programs are connected to North Florida Regional Healthcare, an organization centered around North Florida Regional Medical Center located in beautiful North Central Florida.
We are looking forward to showing you all that North Florida Regional Medical Center has to offer.
Our Program
Thank you for your interest in the Obstetrics and Gynecology Residency Program at North Florida Regional Medical Center. Our residency has continued accreditation without outcomes with the Accreditation Council for Graduate Medical Education (ACGME). The mission of our training program is to educate our residents in the entire breadth of obstetrics and gynecology and to help you develop a lifelong commitment to the learning and promotion of women's healthcare.
In addition to general obstetrics and gynecology, our program includes rotations through all of the subspecialties, including maternal-fetal medicine (high-risk pregnancy), gynecologic oncology, reproductive endocrinology and infertility, and female pelvic medicine and reconstructive surgery. Our full-service obstetrics/gynecology clinic will provide a wide range of experience and pathology.
To learn more about our program, please watch our video.
Training and Education
Karen Harris, MD, MPH
Obstetrics and Gynecology Program Director
Read Full Bio
Tracy D. Foote, BAS
GME Coordinator for Obstetrics and Gynecology
We are committed to innovative methods of teaching obstetrics and gynecology to enhance the educational experience and to facilitate each resident's learning style. We are firmly committed to helping you achieve your full professional and personal potential within an atmosphere of support and mutual respect. Our community-based program will afford close interaction among all residents and faculty and provide more opportunity for individual instruction. This will allow us to have just the right balance between freedom of action by the residents and supervision by the faculty, while maintaining an emphasis on quality patient care.
A unique feature of our program is the Advocacy Rotation in the 3rd and 4th years of training. Residents will learn how economic and political factors affect social determinants of health, and understand the factors that lead to health care disparities, including race, ethnicity, age, gender, disability, geographic location and socioeconomic circumstances. Most importantly, you will learn how to advocate for patient populations as well as individual patients, particularly underserved and vulnerable women. In addition, we will train residents on common methods of health care financing and cost-effective care while optimizing quality. Our goal is to create the physician leaders of the future.
Upon completion of our program, you will be fully prepared for the independent practice of obstetrics and gynecology. Furthermore, you will be fully prepared for advanced training in any of the subspecialties should you so desire and be fully equipped with the skills and knowledge to become a leader in our field.