To locate us in ERAS, please use 4001100314.

To locate us in NRMP, please use 1587400C0.
Our Program
The goal of the Psychiatry Residency Program is to prepare future physicians with the knowledge, skills and attitude needed to provide exceptional patient care in Psychiatry.
Our four year educational program is geared toward preparation for a career in general Psychiatry with board certification. Residents will train in a variety of patient settings to provide optimal training experiences.
Resident rotations are divided into one month blocks to allow diversity in training sites and faculty members. There will be flexibility in the curriculum focus to allow the accommodation of each resident's individual learning needs in order to maximize achievement.
Psychiatry Program Leadership
Almari Ginory, DO, FAPA
Psychiatry Program Director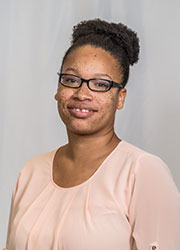 Traci Wooden
GME Coordinator for Psychiatry
Curriculum Schedule & Rotations
The Psychiatry Residency Program Curriculum is designed to prepare residents to treat a wide range of psychiatric disorders in multiple different treatment settings.
Didactics Curriculum
Residents will have a half day of block didactics led by faculty members with the participation of residents. There will be regular journal clubs, ethic rounds, grand rounds, case conference, PRITE review, Board review and formal didactics in psychotherapy and psychiatry.
Lecture Series Schedule
The curriculum for the first year will consist of the following lecture series:
Introduction to Interviewing
Introduction to the DSM 5
Psychopharmacology
Legal and Ethical Principle in Psychiatry
Quality Improvement and Patient Safety
Introduction to Research
Introduction to Psychotherapy
Neuromodulation
The curriculum for the second year will consist of the following lecture series:
Psychopharmacology
Legal and Ethical Principle in Psychiatry
Quality Improvement and Patient Safety
Neuromodulation
Child and Adolescent Psychiatry
Forensic Psychiatry
Psychosomatic Psychiatry
Emergency Psychiatry
Addiction Psychiatry
Geriatric Psychiatry
Research
The curriculum for the third and fourth year will consist of the following lecture series:
Psychiatric Practice and Principles
Legal and Ethical Principle in Psychiatry
Advanced Research Mentoring
Advanced Psychopharmacology
Psychotherapy
Board Review
Journal Club
Rotation Schedule
Training Sites
As a resident, you will be completing your training at several facilities affiliated with our Psychiatry Residency Program. Below are important features of each facility, as well as an overview of the rotations that will be performed there.
NFRMC (North Florida Regional Medical Center)
NFRMC is a 445-bed, full-service medical and surgical acute care center serving North Central Florida. The hospital offers comprehensive cardiovascular care, psychiatry, oncology, orthopedics, neurosciences, minimally-invasive laparoscopic and robotic surgery, weight loss surgery and treatment, women's health and wound therapy, among other services. The Department of Psychiatry consists of a 33 bed inpatient unit, consultation liaison service, PHP/IOP clinic and ECT service.
Rotations:
Primary Care
Neurology
Inpatient Psychiatry
Consultation Liaison
Emergency Psychiatry
IOP/PHP
ECT
Electives
Learn more about NFRMC's Behavioral Health Center
Meridian
Meridian is a private, non-profit organization that has been dedicated to helping people with mental illness and substance use disorders since the 1960's. Meridian has changed thousands of lives by providing a safety net for those in crisis. Meridian offers residential/inpatient services, child/youth services and outpatient treatment.
Rotations:
Addiction
Child and Adolescent Psychiatry
Outpatient Psychiatry
Senior Electives
Forensics
Community Psychiatry
Learn more about Meridian