Dr. Stahl to Participate in the 2018 Psychoanalytic and Psychodynamic Teachers' Academy
We are pleased to announce that Courtney Stahl, Psy.D has been selected to participate in the 2018 Psychoanalytic and Psychodynamic Teachers' Academy of the American Psychoanalytic Association! Dr. Stahl plays a huge role in our residency program, as she teaches Psychotherapy principles and practices, as well as facilitates wellness groups with our Psychiatry residents weekly. The Teachers' Academy is designed to share best practices in teaching about psychoanalysis and psychodynamic therapy to clinical trainees. This is an incredible opportunity for both our residents and Dr. Stahl. Congratulations to Dr. Stahl!
---
The 1st Annual GME Welcome Reception and White Coat Ceremony
On June 28th, 2017 we welcomed 41 new residents to UCF COM HCA GME Consortium-North Florida Regional Medical Center! Our very own 9 Psychiatry Residents were announced in our GME Welcome Reception and handed their white coats by our CMO, Dr. Ann Weber. This was a very exciting time for the residents, as they had the opportunity to meet with executive leadership, mingle with other residents across specialties and partake in some very tasty hor d'oeuvres. They are ready to get to work, as you can see!
---
Welcome to Our New Residents
We are pleased to welcome 9 new residents to our Psychiatry Residency Program starting July 2017!
---
UCF COM/HCA GME Consortium First Annual Research Forum
Our first annual research forum was held April 20, 2017. Medical students and residents from various residency programs presented their research. Submissions were considered for case findings and clinical research with awards given for the best Oral and Poster presentation in each category. Chuck Klodell, M.D., our Medical Director of Cardiothoracic Surgery, was the guest speaker. We are very excited with the success of the event and will be continuing the tradition next year. More details on how to submit your abstract for next year's research forum will be available closer to the date.
---
Dr. Michael Gower has joined the Faculty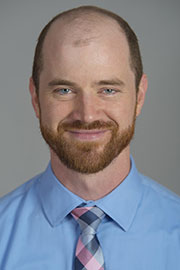 Dr. Gower completed his general psychiatry residency and forensic psychiatry fellowship at the University of Florida. Upon graduating, he joined the VA in Gainesville. He joined the faculty at North Florida Regional Medical Center in February working on the inpatient psychiatric unit. He is an excellent addition to our team and we are excited to welcome him to our faculty.